Soothe Body, Hair & Scalp Oil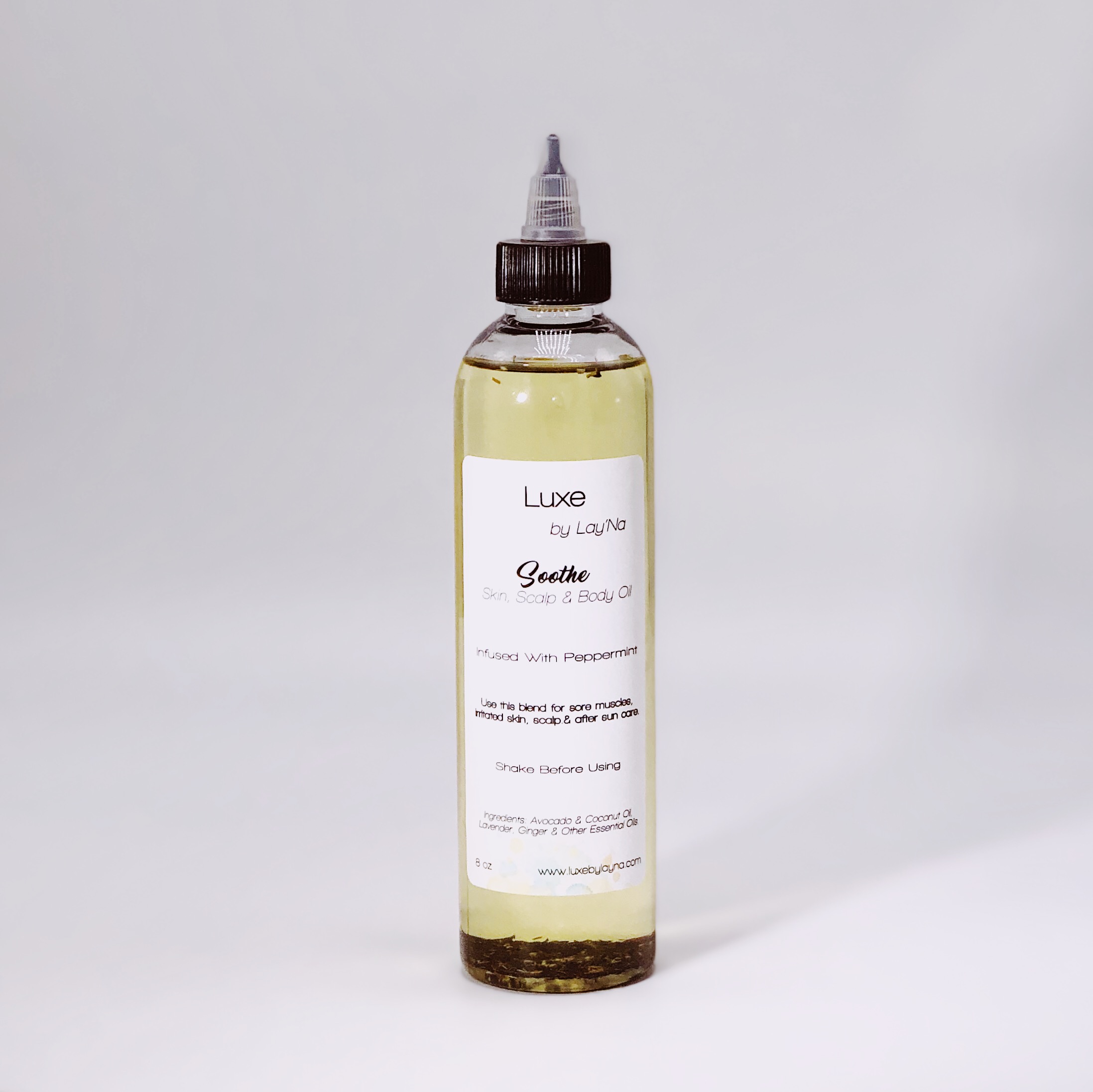 Soothe Body, Hair & Scalp Oil
Black Panther Alert! Our Soothe Body Hair & Scalp Oil and Spray was used daily on the Dora tribe as a Shave Oil and Aftershave. By incorporating these product as part of their shaving routine, we had no issues with ingrown hairs, skin irritation or skin discoloration.
Soothe is a must during and after a day in the sun, especially if you are suffering from overexposure.
How to Use: Shake before using. Massage into skin to soothe and calm the skin, scalp or muscles.
Benefits: Avocado Oil calms the skin and has antioxidants to help heal the skin. Coconut Oil penetrates the skin helps this special blend of essential oils to absorb into the skin quickly. Lavender calms the skin, Ginger is anti inflammatory, Sandalwood calms the nervous system, Peppermint relieves muscle and joint pain and Wintergreen increases circulation.
Tip: Use on sore muscles, on hands to relieve inflammation from repetitive motion and on your feet if you stand all day. This therapeutic blend of oils is perfect after a long bath with Soothe Bath Soak. The combination of Soothe Oil & Soothe Bath Soak are perfect after working out. You can also use this oil to moisturize your hair and scalp. .
Product Info: Coconut oil may solidify if product gets too cold, Just boil some hot water, pout into bowl and let product sit for a few to melt product. Can also be popped in the microwave. Start with 20 sec and repeat if necessary.
Ingredients: Avocado & Coconut Oil, Lavender, Ginger, Peppermint, Wintergreen & Sandalwood. Infused with Peppermint Leaves.
8 oz